So the commute did not happen that Monday as it was slightly rainy. The bike does not yet have guards and I refuse to sit at work with a gritty strip of wetness up my arse all day, so I waited until Thursday to do the bizzo. It was a beautiful day and the ride went off without a hitch, the bike looking, feeling and performing flawlessly. I had to do some jobs in town at lunchtime and then go to Merivale to get my laser eyes checked, so ended up with around 35kms on the clock for the day.
Not one single person flagged me down in the street to tell me about the clear awesomeness of the bike I was riding, thus giving me the chance to smugly tell them that well I actually made it all myself. This was so disappointing that I had to stop in to people I knew to show it off. This satisfied my ego somewhat...
At approximately this time my eldest asked about the hours I spend in the garage and what exactly it is that I do there. I proudly showed her the bike and said I had been making this. She pointed to the wheels and asked 'Did you make this bit?', 'No'. She then pointed to the seat and seatpost 'Did you make this bit?', 'No, now go away now you horrible little shite'.
I then decided to strip it down, and shortly I had this pile of bits;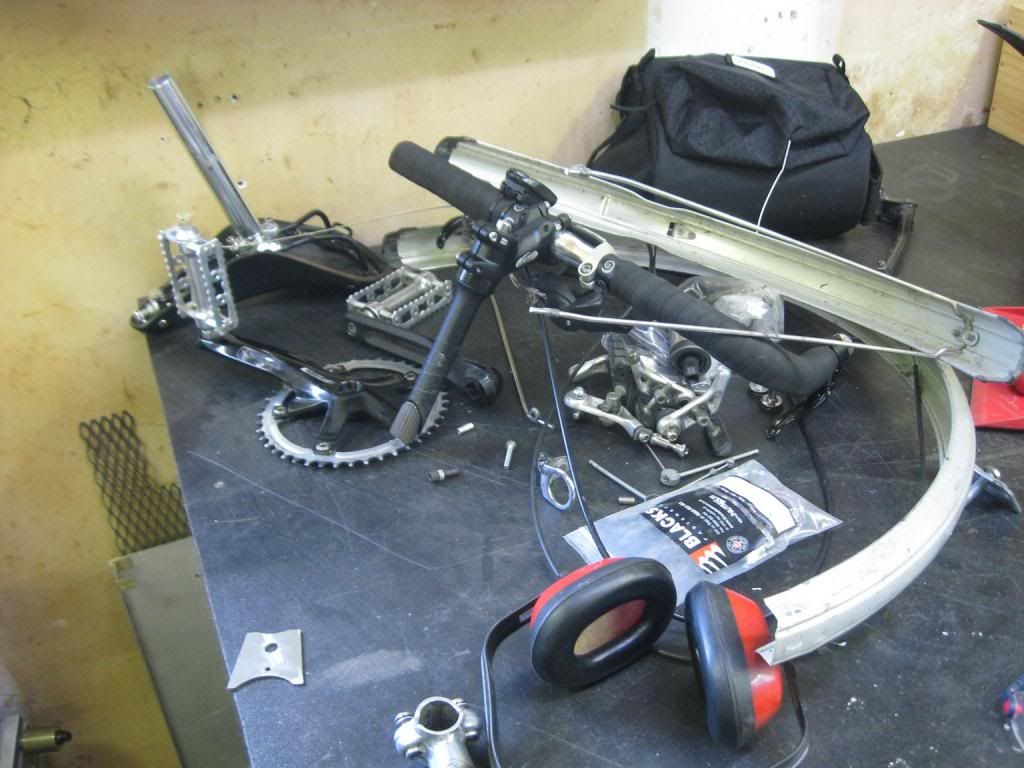 A pile of bicycle parts yesterday.
I then drilled and tapped the guard mount on the fork, and added the rack mount eyes and the chainstay bridge. Unfortunately about this time the batteries on my camera gave out so I have little photographic evidence;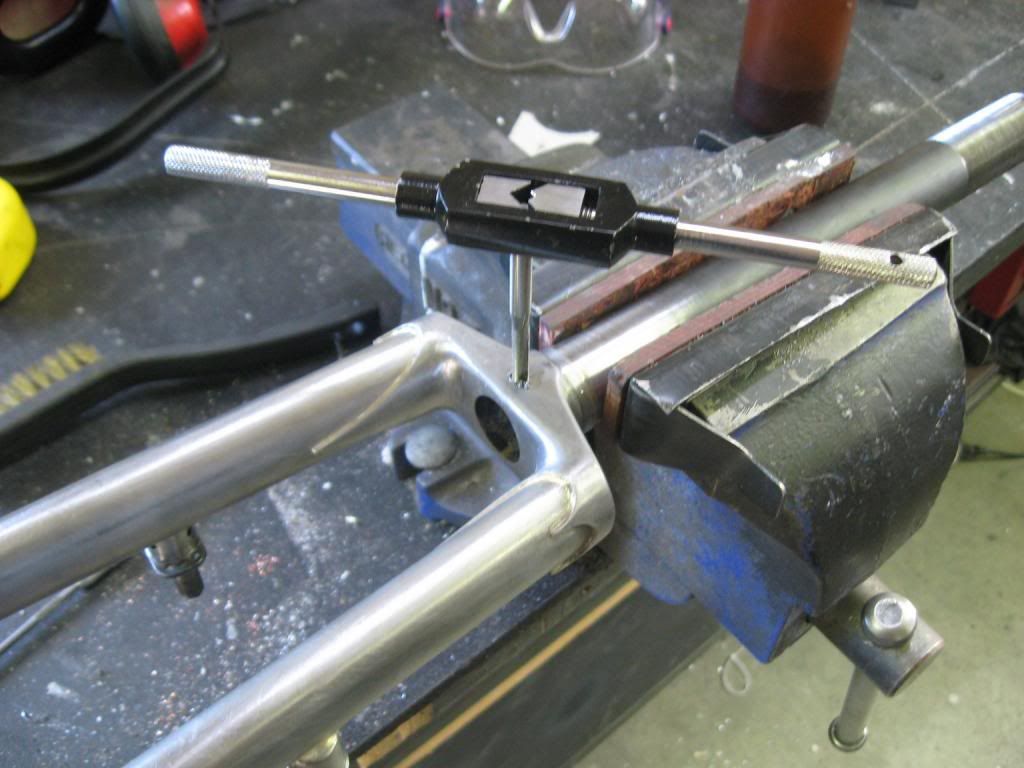 Tapping the M5 Guard mount hole
Positioning the chainstay bridge ready for brazing, the big hole is to fit a kickstand if I need one. I may not be able to bring myself to do it though.
Once I had all those bits on I then spent a considerable amount of time - about an hour per joint - cleaning up all the lugs and removing filing marks etc. This was actually quite enjoyable in it's own way, and I had an audiobook of
Kurt Vonnegut's Slaughterhouse Five
to listen to, a very pleasant way to while away the hours...
So today I dropped the bare frame off to
James Lee Design
for coating. I am getting it clear matte 2 pack wet sprayed, this will show off the frame warts and all. I am probably quite far from the norm with this sort of thing, but I really like things being actually what they are, with no pretending whatsoever. If I thought I could get the frame to look like it does with no protection at all then I would, but practicality rules over all.
I should have the frame back for the weekend hopefully....