It has been a few weeks since I have blogged, firstly there was the Christmas break to contend with and secondly I have been spending a lot of time actually on the fattie...this included a group ride along the beach from Brighton Pier up to Spencer Park and back. This involved a fair amount of dune bombing and general foolishness, plus some racing along the Burwood Forest MTB tracks. More pics and info on this trip can be found
here
(assuming you have twitface).
I have coined a new collective noun; A lard of Fatbikes.
I have also spent a fair bit of time at Halswell Quarry doing loops on the singletracks there while I got used to the handling and capabilities of the beast, and have also done the
Rapaki/Mt Vernon/Vic Park/Bowenvale Loop
a couple of times. The first time up Rapaki made it pretty obvious I was going to need more gears, it was a serious grind and I needed to stop a few times to make it up without puking. I calculated what I would need based on the Disc Trucker gearing and adding a 30 tooth front simply wasn't going to cut it. To this end I made an investigation into monster cassettes, in particular this
beast
;
This gives a 42 tooth sprocket at the expense of the 17 tooth in a 10 speed cassette.
The problem was the leadtime, they have sold out and will not be shipping until March. There is also a NZ option coming on line in the form of a nice looking CNC beast from
Revolution Components
here in Christchurch, but again there would be a bit of a wait.
I decided I couldn't wait and so this happened pretty pronto;
A Single Speed sprocket I had lying around, a laser cut BMX spider and a 42 tooth ramped front sprocket; jobs a goodun.
I initially screwed things together just to make sure of fitment and clearances.
The SLX cassette is 11-36 teeth, I needed to split the middle cluster and remove the 17 tooth sprocket. This meant drilling out the pins, shortening them and peening the pins over to lock the cluster together again.
Once I was happy that everything would work I tigged the sprocket and spider together.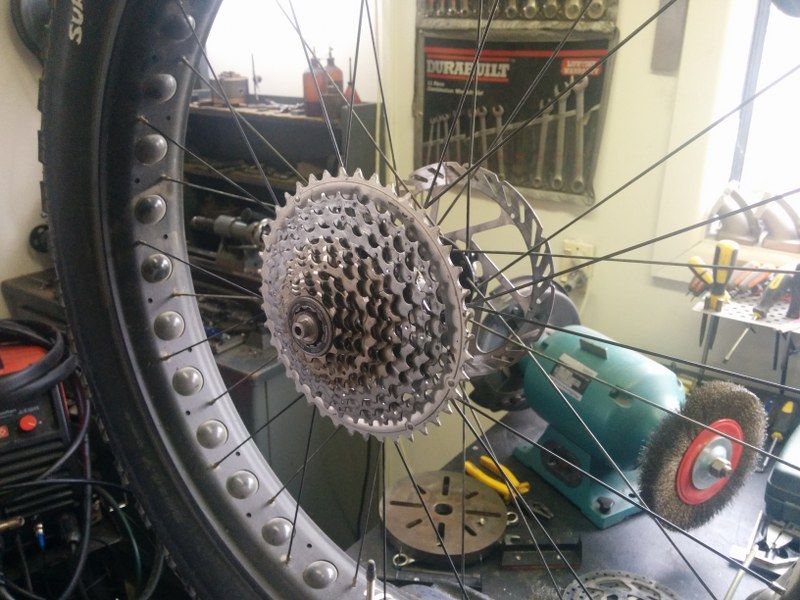 All fitted up.
A wee bit of tweaking to the dérailleur and all was good. The shifting is just possibly not as smooth into the 42T as it is for the rest, but it gets into gear and stays there no problem. The proof is in the pudding though and I did Rapaki again with nary a problem nor a stop to catch breath - great success!
The only worry is whether or not the extra torque from the sprocket will chew out my extremely clicky
Hope
freewheel, but I will pull it off in a couple of weeks to see how things look.
In other news I have upgraded the brakes as well, some of the descents through Victoria Park on my first ride there made it clear I would need more stopping power - the unfortunate condition of my undies made this abundantly clear. The
Avid BB7
's work just fine on my Disc Trucker, but were not giving me masses of confidence on the Fatness. T'internet told me the best bang for buck was going to be
Shimano SLX M675
's. These were ordered from Chain Reaction on a Friday morning and were dropped off the next Tuesday... I did use the DHL option but still I am impressed. Nothing like instant purchase gratification to oil the wheels of rampant consumerism.
The brakes work exceptionally well, they are extremely confidence inspiring...
I cleaned and checked over the beast and took some pics today - this was after a hard core 2 hour session at the BMX track with my kids - a serious endurance test.
The XT dérailleur has no problems coping with the extra movement required.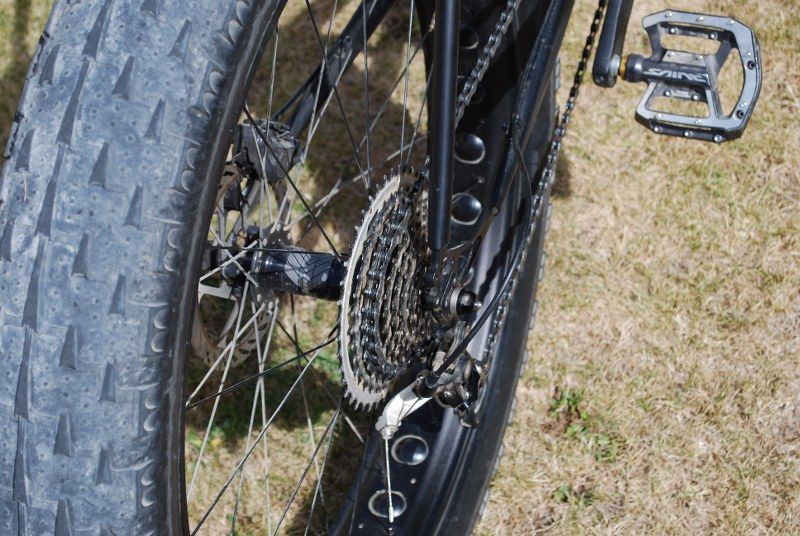 Homebrew monster cassette in place and working sweet as bro.
Tidy install of the SLX brakes at the back.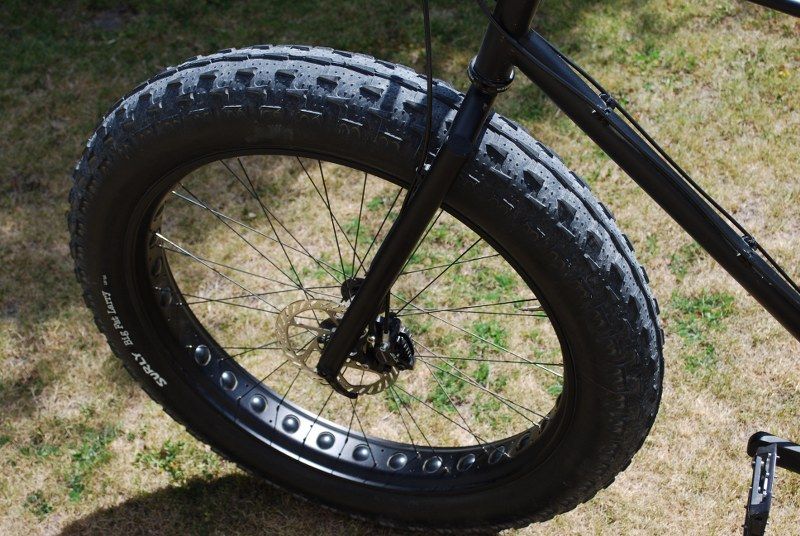 And at the front.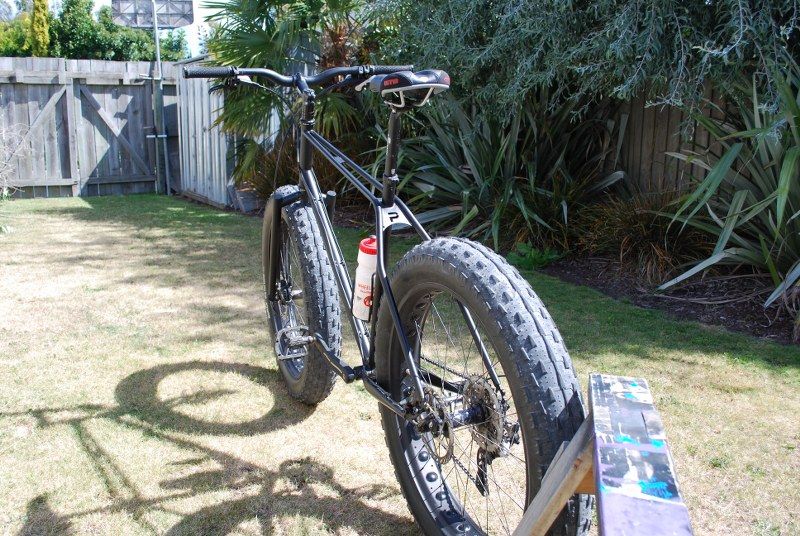 Only marginally living suburban lawn, today
Mmmmm fatness.
So the only real issue I have come up against is the front forks; I used plain gauge tube for the steerer and it moves around more than I am entirely comfortable with. There is no sign of plastic deformation or breakage, but I think I will make a new fork with a proper butted steerer anyway, just for my own confidence. Once this is done I shall get some proper paint on it, as the primer is already showing signs of wear...
We had a family ride around Mcleans Island last week, I moved the seat around so my lovely wife could use this instead of the slightly less appropriate Mixte she usually runs - she liked it so much that I suspect the next build might be another fattie just for her....